It takes a very special band to be ready for a tour with only 6 rehearsals from birth.
The Fiascos are that band.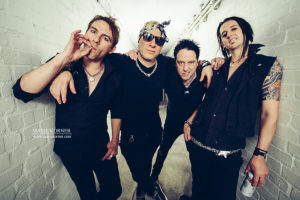 Their musical pedigree speaks volumes even before the amps are turned on:
Keef – Guitars / Vocals (Dead Identities/Wonk Unit/Brijitte West),
Richie – Guitars / Vocals (Glitterbug/Kitty Hudson/Brijitte West),
Ben – Bass / Vocals (Spizzenergi)
& Robin – Drums / Vocals (Sham 69/Rachel Stamp, & everyone else)
With their last song written & finished in 20 minutes, & half an album recorded in 55 minutes, it's safe to say their work ethic is on a par with their live shows, and their drinking: hard & fast.
The Fiascos' combined musical skill is matched with The Fiascos' combined love of alcoholic refreshment, which when mixed live, means they are ever-so-tight-but-loose …. 😉
Coming on like Motörhead in a sweet shop, and Social Distortion playing to get out of jail, add a gangland choir & 4 frontmen (everyone in this band knows how to rock) & you finally have a band that breaks the mould of stagnation in today's times of soulless pedestrian music.
Half of them met in hospital, & the other half were probably twins – The Fiascos – loud & unapologetic, like a last orders bell…
Anyone out there still remember entertainment…?!